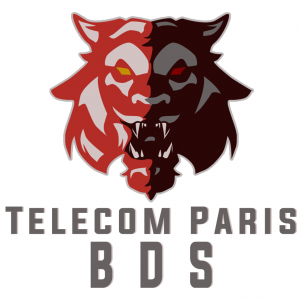 Le rôle du BDS (Bureau des Sports) est d'organiser la pratique du sport à l'école. Entraînements, championnats universitaires, tournois mais aussi week-end sportifs et animation de la vie étudiante!
Quelles activités proposent le BDS ?Le Bureau des Sports organise toute la vie sportive de l'école et vous propose donc de nombreuses occasions de vous dépenser ET de vous amuser.
Pratiquer plus de 15 sports
Des entraînements réguliers avec des coachs
Participer à des tournois étudiants
Rejoindre une équipe de sport collectif pour faire les championnats universitaires
Week-end sportif (randonnée, kayak, spéléologie …etc)
Comment profiter des activités du BDS ?Pour profiter des avantages du BDS, vous devez cotiser pour devenir adhérent. Les montants des cotisations pour l'année 2020-2021 avec T-shirt technique inclus:
Cursus Paris 36 mois: 130€
Cursus Sophia 36mois: 90€
2A/Master 1 (cursus 24 mois): 70€
Les montants des cotisations pour l'année 2020-2021 SANS T-shirt technique :
3A/Master 2/X: 40€
Autres régimes (doctorants etc): Nous contacter
(Ceux qui sont déjà cotisants aujourd'hui pourront acheter un T-shirt mais ça viendra plus tard)
Votre cotisation est valable pour toute votre scolarité à Télécom Paris. Vous pouvez cotiser directement en ligne en vous créant un compte, puis en allant dans l'onglet cotisant de votre profil.
Rendez-vous sur le site de BDS ou le page Facebook de BDS
Cordialement,
---
The role of the BDS (Bureau de Sport) is to organise the training sessions as well as the sport events at school such as intra and inter-university championships, tournaments and last but not least, sports' weekend. We are here to spice up your student life and make college entertaining and sweaty !
What activities does BDS offer?
More than 15 sports
Regular training sessions with professional coaches
Participate in student tournaments
Represent the college in university championships
Sports' weekend (hiking, kayaking, caving … etc)
How to enjoy the benefits of BDS?
In order to participate in all the activities organised by the BDS, you must make a contribution to become a member of BDS, of which the amounts for the year 2020-2021 (with technical T-shirt included) are :
36-month Paris program: 130 €
36-month Sophia program: 90 €
2A / Master 1 (24-month course): 70 €
of which the amounts for the year 2020-2021 (without technical T-shirt included) are :
3A / Master 2 / X: 40 €
Other schemes (doctoral students, etc.): Contact us
If you are already the member of BDS, and you wish to buy our new release T-shirt, be patient and stay tune for the coming information.
PS: Your subscription is valid for your entire student life at Télécom Paris. You can contribute directly online by creating an account on our official website, then hit the contributor button of your profile. Easy-peasy!
Don't forget to like our BDS Facebook page! 
Warmest Regards,